Ranjan Muthukrishnan
Invasive Species Ecologist Fellow
Environmental Resilience Institute
IU Office: Jordan Hall 159E
Phone: 812-855-7039
Email Address: mrunj@iu.edu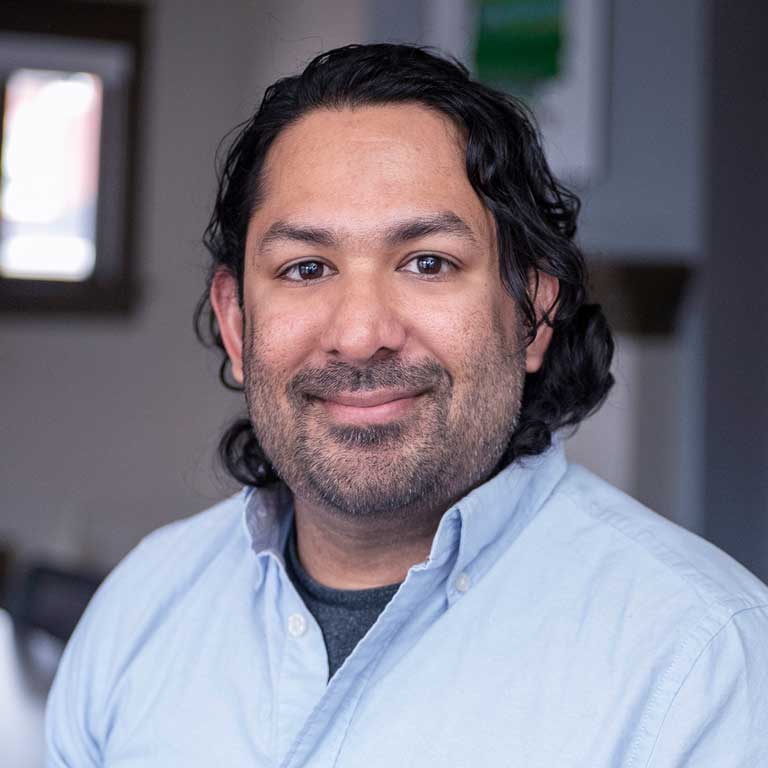 Education and Appointments
Postdoctoral Research Associate, University of Minnesota, Twin Cities, 2013 - 2018
Ph.D. Ecology and Evolutionary Biology, University of California, Los Angeles, 2013
B.A. Integrative Biology, University of California, Berkeley, 2003
Bio
As the invasive species ecologist fellow and a community ecologist, Ranjan Muthukrishnan is broadly interested in the causes and consequences of major transitions in ecological systems. He comes to the Environmental Resilience Institute following postdoctoral work at the University of Minnesota, Twin Cities, where he studied the spread dynamics and impacts of both terrestrial and aquatic invasive species. Muthukrishnan received a bachelor's in integrative biology from UC Berkeley and his doctorate in ecology and evolutionary biology from UCLA, where he studied alternative stable states dynamics in coral reef ecosystems. Currently, Muthukrishnan's research is focused on invasive species, which provides an opportunity to link basic research to management and public engagement with science.

Research
Muthukrishnan's research focuses on what makes ecological communities resilient to natural or human-caused stresses. To study this question, he focuses on situations where ecosystems undergo major transitions in order to look for mechanisms that exacerbate or mitigate the effects of disturbances.

The spread of invasive species is one of the major drivers of global ecological change and often leads to a drastic restructuring of the invaded ecosystem. Muthukrishnan is currently working on a number of basic and applied research projects focused on understanding what makes species invasive, evaluating local invasion risks and developing management strategies. This includes theoretical work on topics such as how traits, such as broad environmental tolerances, can influence the invasiveness of a species and how landscape structure or transmission networks can impact invasive spread. More applied work includes development of lake-level models of invasion risk, assessment of monitoring and management strategies for invasive species control and citizen science efforts to help detect new invasions.

Muthukrishnan's field studies focus on two recent aquatic plant invasions:
Starry stonewort (Nitellopsis obtusa) is a fresh water alga that has recently been spreading across the upper Midwest, including northern Indiana. Starry stonewort can grow in extremely dense aggregations displacing native species and causing significant nuisance for lake recreation. Muthukrishnan is monitoring invasions to quantify spread patterns, impacts on native communities and the ability of diverse native communities to resist invasion and modeling habitat suitability and lake connectivity to predict invasion risks.


One species of seagrass (Halophila stipulacea) was recently introduced to the Caribbean region. It has established dense aggregations in many locations, displacing native seagrasses that are foundation species for complex and important seagrass communities. Muthukrishnan is evaluating the community and ecosystem level consequences of replacing native seagrasses with an invasive and whether external disturbances play an important role in facilitating invasions.