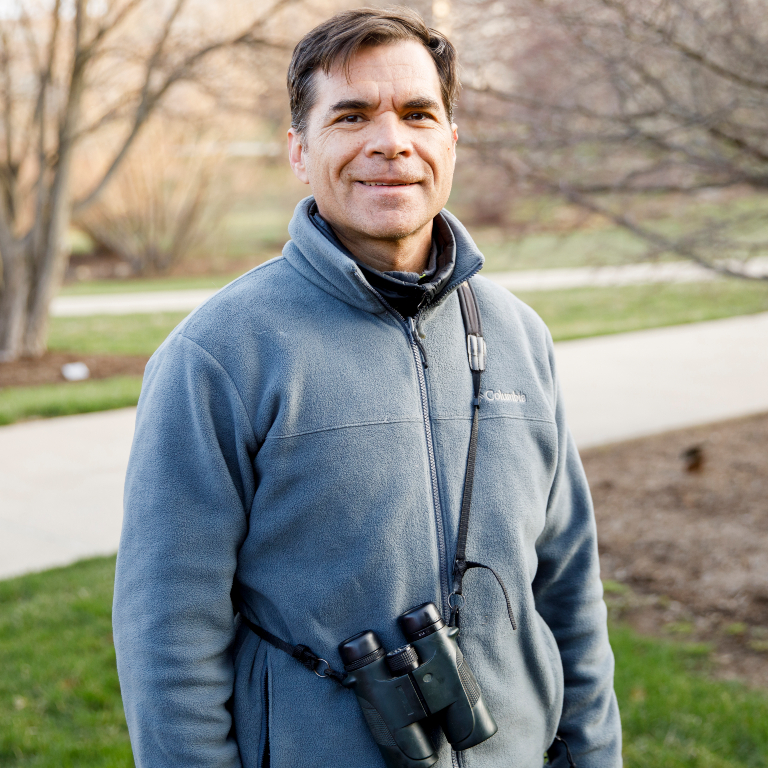 Phone:

812-855-5895

Email:

alexjahn@iu.edu
Campus:

IU Bloomington
Biology Building 133

Education and Appointments
Postdoctoral Research Fellow, Smithsonian Migratory Bird Center, 2016-2018
Visiting Researcher, Universidade Estadual Paulista, Rio Claro, 2013-2016
Courtesy Postdoctoral Research Associate, University of Florida, 2012-2013
Postdoctoral Research Associate, Universidad de Buenos Aires, 2010-2012
Ph.D. Interdisciplinary Ecology, University of Florida, 2009
M.S. Biology, University of Arkansas, 2000
B.S. Fisheries and Wildlife Management, Lake Superior State University, 1996
Bio
Migration Patterns Fellow Alex Jahn holds a bachelor's of science in fisheries and wildlife management from Lake Superior State University, a master's of science in biology from the University of Arkansas and a Ph.D. in interdisciplinary ecology from the University of Florida. Prior to joining the Environmental Resilience Institute, Jahn was a National Science Foundation postdoctoral fellow at the Universidad de Buenos Aires, Argentina, a visiting researcher at the Universidade Estadual Paulista-Rio Claro, Brazil, and a postdoctoral research fellow at the Smithsonian Migratory Bird Center in Washington, DC.
Research
Alex Jahn's research investigates how ecosystems in Indiana and beyond are changing as a result of climate change and urbanization, with implications for human health, food security, and broader environmental resilience. He focuses primarily on bird migration. Birds are carriers of diseases (such as Lyme disease and West Nile Virus) that can infect humans, are key contributors to forest regeneration through the dispersal of seeds, and are pollinators of plants that have value for humans and other species. Because migratory birds move among different countries and climates, their behavior can also provide important clues about how changes in one part of the world may affect outcomes—such as disease outbreaks or crop failures—impacting people in other areas.
By combining his findings on birds' migratory patterns with information from collaborators regarding weather, urbanization, and Lyme disease, Jahn hopes to develop a forecasting system for Indiana that will help residents predict what the future of the state could look like under different climate change and urbanization conditions. These predictions could be used to improve readiness for challenges in areas such as agriculture, water quality, and communicable diseases.
Jahn's research at Indiana University will focus on migratory patterns of the American robin, which is common throughout much of North America. An interesting feature of this bird's migration is that while some Indiana robins fly south for the winter, other robins remain in the state year-round—in fact, an individual bird might migrate one year and stay put the next. This "partial migration" pattern offers new insights into how robins and other birds may be shifting their migratory patterns in light of current changes in Indiana and elsewhere.
While temperature changes are likely to influence robins' behavior, urban development may also be contributing to these observed patterns. Cities can provide readily available food (through discarded scraps) while being inhospitable to some birds' predators. Buildings and infrastructure can also provide direct shelter for some bird species, as the example of the barn swallow illustrates. This bird, which often nests in human-built structures, has only recently begun breeding during the winter in Argentina, nesting in the country's newly built bridges.
To collect data on American robins in Indiana, Jahn aims to partner with local residents whose backyards will serve as key environments of interest. His team will attach miniature 1-gram GPS tracking devices to robins using tiny backpacks. He will also make use of data from the crowd-sourced eBird app, which enables residents to report their own bird sightings.