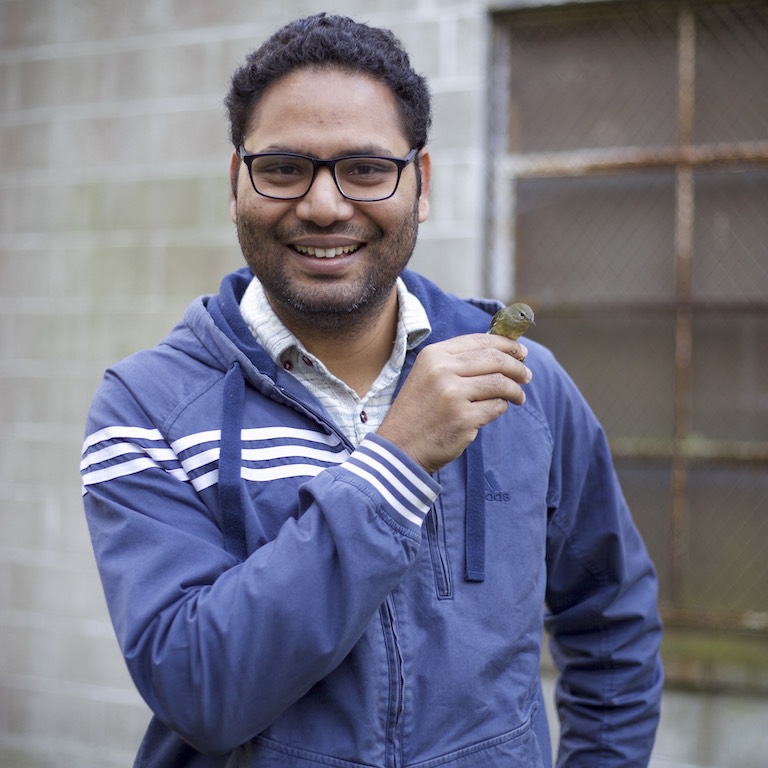 Phone:

812-361-1083

Email:

devsingh@iu.edu

Website:
Department:

Biology

Campus:

IU Bloomington
Jordan Hall 149

Education
Ph.D. Zoology, University of Delhi, India,(2014)
M.Sc. Zoology, University of Lucknow, India, (2007)
B.Sc. Zoology, Chemistry, University of Lucknow, India, (2005)
Bio
Devraj Singh received his Ph.D. in Zoology from the University of Delhi, and now studies the migratory and reproductive behavior of a model songbird species, the dark-eyed junco or 'snowbird.' The dark eye junco sub-populations overwinter together from fall to early spring. As spring approaches, the juncos breeding at higher latitudes migrate to their breeding ground further north and residents start breeding early. His current research focus is to study latitudinal differences in seasonal behaviors of dark eyed juncos and how different climatic factors might influence their migratory behavior and reproductive timing.
Research
Environmental change alters environments, and migration research may make it possible to predict which species will have the capacity to adapt to changing climate and how. Singh's research studies the mechanisms junco sub-populations use while still living on their wintering range to enhance the likelihood of achieving a match with their ultimate breeding environment. Singh is looking at migratory behavior and reproductive timing of closely related populations of juncos that reside in the same environment in early spring, but differ in their response to climate change. While one population is setting up territories and preparing to breed, the other is preparing to migrate north and breeds only after migrating. Further, he is using tools to assess how the environment influences their physiology and behavior. Collectively, these studies will address the capacity of avian populations to adapt their migration and reproduction timing to environmental change.