Though environmental change is a global phenomenon, it's actually felt at the local level, where communities must deal with the effects of heat, flooding, drought, and other challenges related to climate change. That places local governments and community leaders at the frontlines of climate resilience.
To better educate local officials, government staff, and residents in Indiana and the Midwest on the risks their communities face and how to address them, Environmental Resilience Institute Director Janet McCabe and ERI Implementation Manager Andrea Webster started the Prepared for Environmental Change Webinar Series in September 2018.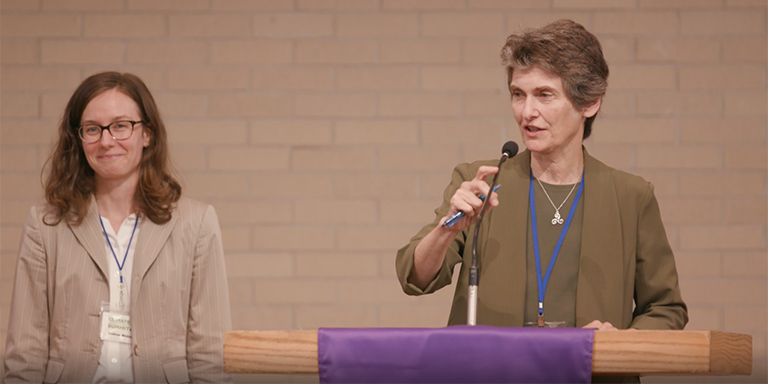 Now entering its second year, the monthly series has exposed a diverse group of stakeholders to resources and experts that can help communities deal with and prepare for a wide variety of climate-related issues, such as higher average temperatures, periods of heavy precipitation, and rising incidence of asthma and allergies. The webinars are held 12–1 p.m. on the second Wednesday of each month and are archived on the ERI website. Upcoming topics include public health, zoning codes, and the Hoosier Resilience Index, a new ERI tool.
"We wanted a way to educate local government employees and other groups about climate change and how it is impacting their communities," said Webster. "In our discussions with local leaders, it became apparent that people oftentimes didn't realize that climate change is something they should be worrying about for their community located in the Midwest—away from the coasts."
With support from the Association of Indiana Counties and Accelerate Indiana Municipalities, the PfEC Webinar Series has attracted a steady following, with guest speakers representing academia, industry, and government sharing case studies and targeted information. Topics have included urban and rural flooding, solar and wind energy, assessing community vulnerability, and using greenspace, among other issues and solutions.
"One of my favorite things about the webinar series is that it's specific enough to be relevant to my work but general enough to appeal to people in other fields," said Katherine Moore Powell, a climate change ecologist at the Field Museum in Chicago.
As part of her job, Powell works with public land managers, policymakers, and water agency officials to develop climate change adaptation and action plans. In 2016, she helped develop a plan for the Indiana Dunes National Lakeshore, which was named a national park in 2019.
"I want to know how to assist the public sector and help them understand the science," Powell said. "The webinars expose me to information that isn't in my particular wheelhouse."
Therese Dorau, the City of South Bend's Director of Sustainability, said she uses the webinars as an occasion to bring city staff members from different departments together to think more critically about sustainability.
"It's absolutely essential that these folks are on board if we're going to make progress on our sustainability goals," Dorau said. "Hearing experts address an Indiana and Midwest audience and hosted by an Indiana institution is very helpful to me in making the case for the importance of these issues."
Cass County Councilman Grover Bishop initially attended a PfEC webinar on flooding in rural communities, an issue that his county has struggled with in recent years. "That's a big concern here and agricultural communities all over the state," he said.
Since then, Bishop has viewed webinars on wind energy—another topic that Bishop has grappled with as a public official—and electric vehicles, which he said represents the future of transportation.
"You've got to be looking forward to what's coming up. You can't be blindsided," said Bishop, who is serving his third term in office.
Following each webinar, Webster sends additional information and resources to participants to supplement the 1-hour presentations.
Perhaps just as important as educating new audiences on climate change impacts and resilience strategies has been the networking opportunities the series provides, with guest speakers from states such as Michigan, Iowa, and North Carolina, volunteering their time.
"Universities are great at bringing people together to learn," McCabe said. "At ERI, we are lucky to have access to experts on a whole range of topics."